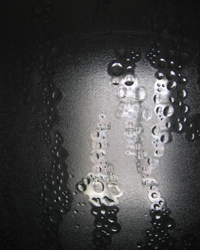 It was now 5am, the birds were tweeting outside Johns window, this rattled him as he was so tired all he could think about was sleep, but he couldn't ,not now, he had drank too much coffee and his nerves were at boiling point, plus he had to find out for sure if Richard was going to get his "just deserts" he longed for that now, it became a kind of a passion ,he wanted Richard to get his, at all costs, deep down in his mind John was shaking his head in shame, after all it was only a book of fiction? John had to pee, for the last four hours he had tried his level best not to think about it, he was too engrossed, he wanted to keep reading and reading.
He washed his face and looked in the mirror, for his years John was looking old, probably the fact of his highly pressurized job, but he admitted to himself he was looking old.
The mirror steamed up from the boiling water coming from the tap, so hot John shocked himself awake with the sting in his fingers, just before he turned the tap of the mirror went back to normal, as the breeze from the fan in the bathroom finally came on.John found it a bit nippy, it was nearly autumn, the crisp air coming from the fan indicated that.
John pulled his covers further up the bed as he settled down to read the last remaining chapters of this mysterious book.
Richard woke up in a stupor, his eyes were rolling around like a pinball but never really knowing were they were going to end up, at the side of his bed was a small envelope with what remained from his last fix, he carefully opened the envelope to find it empty, this put him in a rage, he smashed the portrait of his mum and dad on the small table, threw his hands in the air ,then screamed at the top of his voice, he was in pain, deep pain, and the only way he could get comfort from this pain was to get his "fix".